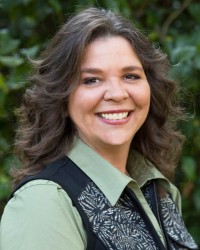 Summer Bashore
Broker/Owner
License #:01392745
PO Box 486
7691 State Highway 3
Hayfork, CA 96041
Mobile: (707) 496-4045
Office: (530) 628-4422
Summer has been actively engaged in Real Estate sales since 2003, with a wealth of experience in new construction, resale homes, ranches, rural properties, off-grid homes, compliant cannabis propeties, vacant land, and commercial sales.

Summer is a Trinity County native, born in Denny in 1974 she was raised in the heart of the Trinity Alps Wilderness on a mining claim where her parents lived in a log-cabin they built themselves. When school age came along, her family moved to Hyampom, where Summer attended school from kindergarten through 5th grade. From 6th grade through graduation of High School in 1992, Summer lived in Hayfork. She met her husband in High School, and they are still happily married today over 30 years later.

In 1993 they moved to Oregon where Summer started working for Intel Corp., a Multi National Corporation that is the world's largest computer CPU manufacturer. Quickly recognizing the invaluable real-world business experience and opportunity, Summer efficiently climbed the corporate ladder in the 10 years she worked for Intel. Her experience prepared her well for her next endeavor in the real estate industry, having been a Purchasing Agent negotiating contracts, and a Customer Business Analyst responsible for forecasting customer's demand and managing the supply line for some of the largest computer manufacturers world-wide.

It was in 2003 Summer became a licensed REALTOR® and moved from the Folsom area to Redding. After acquiring great experience in Shasta County, in 2008, Summer and her husband made the move back to Hayfork in Trinity County. In 2011 Summer opened TOP Properties with their flagship Hayfork offfice, opened a second office in Weaverville in 2015, and expanded into Humboldt County shortly thereafter.

In 2018, Summer and her husband moved to Shelter Cove in Humboldt County, and in 2020 the TOP Properties Team grew adding an office in Arcata, and one in Shelter Cove. Summer is proud of her team of dedicated agents serving all corners of Trinity and Humboldt Counties, as well as parts of Shasta, Del Norte, and Mendocino Counties.